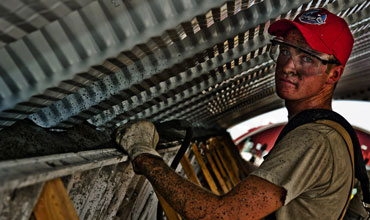 For Concrete in East London, Contact Us!
If you're working on a building project and need construction materials, you'll need to be very detailed and cautious when selecting a construction material supplier. Concrete is one of the most significant materials used in construction, and it comes in two varieties:
• Pre-mixed concrete
Both are significant in their own right and should be chosen accordingly. Ready-mix concrete is the best option if you require a consistent supply of concrete in East London. However, on-site mixing is an alternative option if you just need a small amount at regular intervals.
Suppliers of ready-mix concrete prepare concrete in a batch factory, and then they are produced in huge quantities before being delivered to your door in barrel trucks. Concrete in East London is normally supplied to the job site in two days.
The Benefits of Procuring Premixed Concrete in East London
There are several benefits to using ready-mix concrete. These are described further down:
• Depending on your needs, you can order small batches or big volumes of concrete in East London. The construction process is not disrupted in any way.
• The concrete output is of excellent quality since ready-mix concrete is prepared in huge mixing plants with adequate equipment. Skilled experts measure the raw ingredients correctly, and each step is examined. This results in a suitable concrete mix.
• If there isn't enough space on your construction site for large mixing equipment and bags of cement, sand, and other supplies, you'll need to use ready-mix concrete.
• The on-site mixing operation generates a great deal of dust and noise. As a result, ready mix concrete can save you time and money while also helping to protect the environment.
• Because these ready mixes are created in large plants with specific gear, there is less need for human labour, eliminating human errors in calculating the proper raw material ratio.
West London Concrete | Suppliers of Supreme Quality Concrete in East London
If you're looking for a ready-mix concrete provider in the UK, West London Concrete" can provide you with a steady supply of high-quality concrete in East London. We give you the highest-quality construction supplies at the lowest possible price. Our prompt and fast service, as well as our highly qualified staff, will never disappoint you. We are your best option in the UK since we offer the most competitive cost on our concrete in East London and other related services.
We provide swift delivery of supplies, allowing you to receive construction materials and machinery more quickly. This enables you to complete your building project on schedule and minimize delays. West London Concrete provides the following services:
• On-Site Concrete Mixing
• Ready Mix Concrete
• Barrowing Service
• Mixed Screed
• On-site Concrete Pump
• Boom Pump
• Line Pump
• Accelerator Admixture
• Retarder Admixture
For any queries regarding concrete in East London feel free to get in touch with our executives.