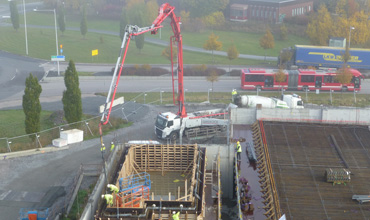 If you are looking for reliable and high-quality ready mix concrete in Ealing, look no further than West London Concrete. With years of experience in the industry, we have built a reputation for delivering exceptional service and products to our customers.
What is Ready Mix Concrete?
Ready mix concrete is a type of concrete that is manufactured in a batching plant and delivered to the construction site in a ready-to-use form. It is made using a precise mix of cement, aggregates, water, and additives that are mixed in a controlled environment, ensuring consistent quality and strength.
Benefits of Using Ready Mix Concrete
There are several benefits to using ready mix concrete for your construction projects. Firstly, it offers a higher degree of accuracy and consistency in the mix, which results in stronger, more durable concrete. This is because the ingredients are measured precisely, and the mixing is done in a controlled environment, ensuring that the mix is uniform.
Another benefit is that ready mix concrete is much more convenient than traditional on-site mixing. The concrete is delivered to the site already mixed and ready to use, eliminating the need for on-site mixing and reducing the risk of errors or inconsistencies. This saves time and labor costs and allows for faster construction.
Ready mix concrete is also a more environmentally friendly option than traditional on-site mixing. It requires less water and energy to produce, resulting in a smaller carbon footprint.
Why Choose West London Concrete for Your Ready Mix Concrete Needs?
At West London Concrete, we are committed to providing our customers with the highest quality ready mix concrete in Ealing. Our team of experienced professionals has a deep understanding of the industry and can provide you with expert advice and guidance on the best mix for your project.
We use only the finest quality materials in our mixes, ensuring that the concrete we deliver is strong, durable, and long-lasting. Our batching plant is equipped with state-of-the-art technology that allows us to produce consistent and accurate mixes every time.
We pride ourselves on our excellent customer service and always strive to exceed our customers' expectations. Our team is available to answer any questions you may have and to provide you with updates on the status of your delivery.
Our delivery service is fast and reliable, and we can accommodate both large and small orders. We understand that construction projects can be time-sensitive, which is why we always strive to deliver your concrete on time and within budget.
Conclusion
If you are in need of high-quality ready mix concrete in Ealing, look no further than West London Concrete. Our commitment to quality and customer satisfaction sets us apart from our competitors, and we are confident that you will be satisfied with the service and products we provide. Contact us today to learn more about our services and to request a demo!