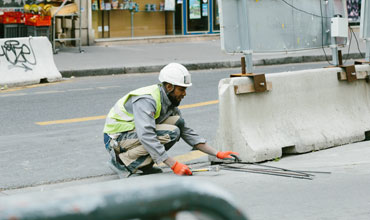 Grow Your Construction Business with Our Ready Mix Concrete Luton
Construction is incomplete without concrete. Ready-mix Concrete Luton is batched for delivery from a central plant instead of being mixed on the job site. Each batch of ready-mixed concrete is tailor-made according to the contractor's specifications. It is delivered in cylindrical trucks. West London Concrete is a reliable name. We have plants conveniently located in Luton and adjoining areas of West London that can supply concrete for your projects.
We value the cement mix's quality and ensure on job delivery service. Our Ready-mix Concrete Luton has recycled content and all materials are sourced from our plants. It is advantageous because small quantities of concrete are ideal for large jobs with limited space for a mixing plant and volume of stockpiles. Ready-mixed concrete is an excellent choice where the correct ratios of concrete must be mixed. Here at WEST LONDON CONCRETE, we guarantee the best grades of concrete for a variety of purposes, both domestic and commercial.
Ready-mix Concrete Luton is prepared off-site using a batching plant and is mixed according to the specific ratios of materials. The mixing method gives you the exact consistency of concrete that can be delivered anywhere in Luton and its adjoining neighbourhood. It is re-mixed when it arrives at the construction site to ensure that the slump is even and proper.
What Makes You Choose Ready Mix Concrete Luton?
Ready-mix concrete is ready to use a material that is simply the easiest way to finish any project.
Adaptability: Ready-mix concrete is versatile and has lots of utility as a construction material.It can be used in building roads, foundations, bridges, walls, floors, driveways, footpaths.
Durability: Any construction requires a durable material for a strong foundation. Its super strength cannot be matched and is convenient to use. It does not crack as ordinary cement giving your construction a long-lasting benefit.
Economic Value: Ready-mix Concrete Luton is a favourable preferred choice for Engineers.It has various essential qualities.It reduces the labour cost and site supervision cost.The concrete takes less time to dry, thus saving your valuable time and money.
Perfect Consistency: Our ready mix maintains consistency in quality through accurate and computerised control of material aggregates and water as per your requirement of mix designs. No worries about your concrete being too thick or thin.
Readily Available: We are a continuous supplier of all construction materials. You can find us in Luton, and its adjacent neighbouring areas. We deliver the ready-mix at your preferred on-site location.
Our versatility and capabilities are the foundation of a client's preferences and choices. We are always paying heed to our requirements and continuously upgrading ourselves to cater to our needs.WEST LONDON CONCRETEis a team of skilled and dedicated professionals who are always there for their esteemed customers. Our cutting-edge technology and advanced machinery allows us to offer the best Ready-mix Concrete Luton in a competitive construction business. Our prices are reasonable and meet your demands.