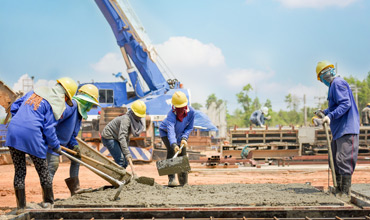 West London Concrete is a leading supplier of ready mix concrete in High Wycombe and the surrounding areas. With years of experience in the industry, we have established ourselves as a reliable and efficient concrete supplier, catering to the needs of both commercial and domestic customers.
⦁ Customised Products
At West London Concrete, we understand that every project is unique and has its own specific requirements. This is why we offer a range of ready mix concrete products that are tailored to meet your specific needs. Our experienced team will work closely with you to understand your project requirements and recommend the most suitable mix for your project.
⦁ Latest Technology
Our ready mix concrete is manufactured using the latest technology and the highest quality raw materials. We use only the best quality aggregates, cement, and water to ensure that our concrete is of the highest standard. Our state-of-the-art batching plant is capable of producing large volumes of concrete quickly and efficiently, allowing us to deliver your order on time and within budget.
⦁ Quickest Delivery
We pride ourselves on our fast and reliable delivery service. Whether you need a small amount of concrete for a DIY project or a large quantity for a commercial project, we can deliver it to your site quickly and efficiently. Our fleet of modern concrete trucks are equipped with the latest GPS technology, ensuring that your order is delivered to the right place at the right time.
We understand that time is money in the construction industry, which is why we offer a range of delivery options to suit your needs. Our flexible delivery service means that we can deliver your order at a time that is convenient for you, whether that's early morning, late evening, or even on weekends.
⦁ Top Customer Service
We are committed to providing our customers with the highest level of customer service. Our team of experienced professionals are always on hand to answer any questions you may have and provide expert advice on your project. We pride ourselves on our friendly and approachable manner, and we are always happy to go the extra mile to ensure that our customers are satisfied with our service.
Our Additional Services
In addition to our ready mix concrete in High Wycombe, we also offer a range of other services, including concrete pumping and concrete blocks. Our concrete pumping service allows us to deliver concrete to hard-to-reach areas, making it ideal for projects with limited access. Our concrete blocks are perfect for a variety of applications, including retaining walls, garden walls, and edging.
Choose Us For The Best Outcomes
At West London Concrete, we are committed to providing our customers with the highest quality products and services at competitive prices. Our goal is to make the process of ordering and delivering concrete as easy and hassle-free as possible, leaving you free to focus on your project.
So, if you're looking for a reliable and efficient ready mix concrete supplier in High Wycombe, look no further than West London Concrete. Contact us today to discuss your project requirements and get a quote for your order. We look forward to working with you!