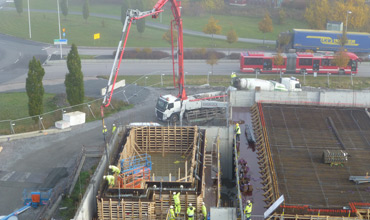 As a popular building material, concrete has been used for centuries in the construction of everything from residential homes to commercial buildings. Concrete is a durable, cost-effective, and versatile material that can be used for a wide range of applications. In Slough, West London Concrete is a trusted supplier of high-quality concrete for all types of building projects.
⦁ We Offer Consistent Quality
At West London Concrete, we understand the importance of quality and consistency when it comes to concrete. That's why we use only the best materials and manufacturing processes to ensure that our customers receive the highest quality product possible. Our team of experts is dedicated to providing outstanding customer service and delivering the right amount of concrete at the right time.
⦁ Top-Grade Manufacturing
Our concrete is manufactured in our state-of-the-art plant, which uses the latest technology and equipment to produce a consistent, high-quality product. We offer a variety of concrete mixes to meet the needs of any project, including standard concrete, reinforced concrete, and special mixes for specific applications. Our concrete is tested for strength and durability to ensure that it meets or exceeds all industry standards.
⦁ Tailor-Made Concrete Mix
At West London Concrete, we understand that every project is unique, and that's why we offer custom concrete mixes to meet the specific needs of our customers. We work closely with our clients to determine the exact specifications for their project, and we develop a custom mix that meets those requirements. Our experienced team is always available to answer questions and provide guidance to ensure that our clients get the best possible results.
We Offer Comprehensive Construction Supplies
In addition to supplying high-quality concrete, West London Concrete also offers a range of other services to help our clients get the most out of their projects. We offer concrete pumping services, which allow us to deliver concrete to hard-to-reach areas or locations that are inaccessible by traditional delivery methods. Our concrete pumping services are fast, efficient, and cost-effective, making them an ideal solution for many projects.
We also offer concrete collection services, which allow our clients to collect concrete from our plant and transport it to their site using their own vehicles. This service is ideal for smaller projects or for clients who prefer to handle their own concrete transportation.
Get the Best Customer Care Support Service from Us
At West London Concrete, we are committed to providing the highest level of customer service and quality products. We understand that our clients' success is our success, and that's why we go above and beyond to ensure that every project is a success. We are always available to answer questions, provide guidance, and offer support to our clients throughout the entire project.
If you're looking for high-quality concrete in Slough, look no further than West London Concrete. With our commitment to quality, expertise, and customer service, we are the go-to choice for all your concrete needs. Contact us today to learn more about our products and services, or to request a quote for your project.