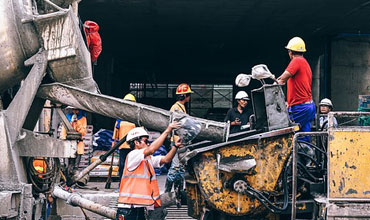 Collaborate With The Finest Concrete Supplier in North London
A world that is always changing necessitates the development of new construction methods. Concrete is one of the most extensively utilised construction materials today. This is not only due to the wide range of uses it provides but also to its behaviour, strength, affordability, durability, and adaptability. As a result, construction workers trust concrete as a safe, robust, and simple material. It's used in many structures (from single-family homes to multi-story office buildings) and infrastructure (roads, bridges, etc.). Concrete is used to construct foundations, columns, beams, slabs, and other load-bearing structures. So connecting with the right concrete supplier in North London becomes essential.
A wide range of projects, from small-scale house renovations to large-scale industrial facilities, can be completed using concrete. On top of that, it's utilised for a wide range of other things, including walkways and foundations as well as walls and pillars. Various types of concrete are employed in the construction process, and West London Concrete offers you all the varieties and qualities you are looking for.
We are a dependable and well-grounded concrete supplier in North London who provides cost-effective concrete at our doorstep or on-site, which is preferred for you. We can change the amount, strength, and grade of concrete to support your project firmly and strongly. We can supply concrete for any construction purposes like:
• Foundations, footings, and groundworks.
• Roadworks and commercial developments include shopping malls, industrial units, and business houses.
• Driveways, paths, and garden fences.
• Home renovations and extensions, patios, and garages
West London Concrete- The Best Concrete Supplier in North London
• We supply you the heavy machinery, pre-cast concrete products, ready-mix concrete, and all construction materials.
• Our production units incorporate the latest advancements in plant and materials technology to ensure the highest standard in the quality of concrete.
• Our range of vehicles includes ground line pumps and boom pumps, ensuring that you choose the right concrete pump hire service.
• We deliver on-site or door-step as per your preferences.
• No long waiting; we dispatch at exact time slots.
• Highly trained and experienced experts willing to help you in every possible way and solve your every query.
• We can handle any size of the project.
• Twenty-four hours day and night service.
• Our only goal is to meet your demand and fulfill your need.
• We ensure you with the best service at affordable rates.
• We import and export supply materials for cement and other materials.
• We supply a range of specialist concrete mixes designed to meet the most challenging environments, including concrete mixes to be placed underwater, concrete that withstands chemical abrasion, and colorful concrete mixes to add aesthetic appeal to our structures.
• We supply custom-made and traditional floor screeds directly to your doorstep. Screed is used for domestic, commercial, or industrial applications and can be utilized for all internal floor coverings where a smooth, flat surface is required.
• Our Concrete production plants are located all over London.
• We can provide same-day or next-day delivery in and around London.
So if you are looking for a concrete supplier in North London, connect with our team!